There's an interesting audio slideshow about the 'disappearing act' of letterpress on The Guardian's website. The article introduces us to the craft and how a master of the trade puts it all together to produce beautifully printed items.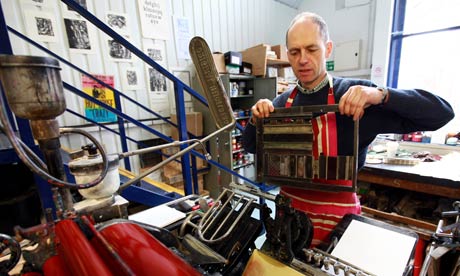 After I left university I spent a short spell working for a printer in Oxfordshire. He'd spend hours in the hot, stuffy basement with this mechanical wonder, enveloped in ink fumes.
He used to put off the task for days, with an understandable dislike of the humid air and emerging light headed at the end. Still, I wish I'd insisted on learning more about the process (although I don't recall it being letterpress).